Verbal Reasoning – Insert a Letter (Type A)
April 22, 2021

Posted by:

gg-pure

Category:

Verbal Reasoning
The Insert a Letter question type will require you to pick a letter from either the multiple choice options given, or expect you to write a letter of your choice in order to complete 4 words. You can only select 1 letter.
You should be able to insert your letter at the end of the first word and then the beginning of the second word, whilst still making sense. This should also make sense when applied to the second pair of words.
The words that you complete with your selected letter must be real words.
A question mark will indicate where the letter should be provided, sounds simple right? With a question like this you need to have, and it will test, the following:
Broad knowledge of English vocabulary and definitions
Practice in problem-solving techniques
Applying trial and error fast
Recognising the most suitable sounding solution
Working logically and in order
If we look at the core skills that this is testing, it is both processing the information on the page, so what is it telling me, and identifying the correct solution, what do i need to do? You wont be expected to have all the answers, or know all the words. What makes a good student is if you are able to apply your technique to new scenarios.
What do Insert a Letter Questions Look Like?
As you can see from the CGP test example below, the Insert a Letter question is in the following format:
General example with instructions
Set of questions
Area to answer
1 mark per question
Option to write on the line or select from the multiple choice on the answer sheet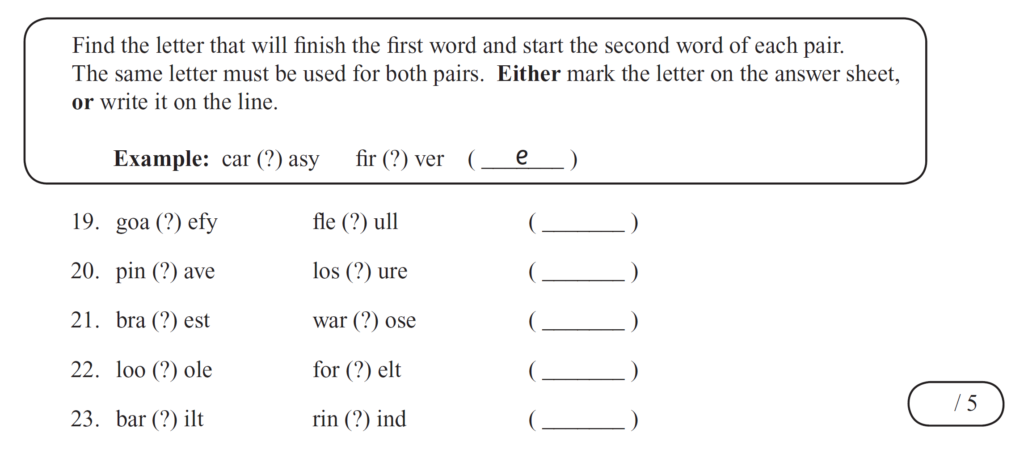 Verbal Reasoning – Insert a Letter – Answer Sheet

How do I answer this question?
You have to have been practising your vocabulary ahead of time to, at the least, be able to work through these questions quickly. The Insert a Letter questions can look simple, but they can also be made complicated with exams throwing in uncommon words which leads to you wasting time, getting confused, stressed and then rushing to answer without thinking.
You want to at least do the following:
Process the information e.g. the 2 pairs of words
Select your answer, using the answer sheet as a guide
Run your letter through the first word, if it makes sense, move to the second word with the same letter and carry on, if the word doesn't make sense then move onto the next letter option
Do not waste time on a letter if the word doesn't make sense or you dont recognise it
As you can see from the CGP example, if you just relied on the test paper, any person could default to just going through the whole alphabet. This is a big no as it wastes time. What you want to do is use the Answer Sheet to narrow down your options and select from there. Your English vocabulary will play a huge role here because if you have done enough practice, you can try to see the whole word before you even look at the options, saving you time.
Believe it or not, being able to reference two different sources of information, so for this example that is the test paper and its instructions, and then the second sheet which is the answer sheet is also a skill.
What if I don't recognise any of the words or letters?
I have focussed a lot on whether you have a broad vocabulary or just making things make sense, but, these test don't expect you to know everything. So first of all, if you come across a set of words or letters that just aren't making sense when matched together, do not panic. This is normal, this is fine, and you are equipped to deal with it.
What we need to do here is apply a trial and error problem solving technique where you will make your best guess based on three things:
Does it look right to me? Write the answer anywhere on the paper quickly
Does it sound right to me? Say it out loud to yourself though
Do most of the things match or make sense? Do you feel like most of the words match the letter you selected?
Remember, we are stuck at this point but that is fine. This is exactly what the test is there to challenge us to do, so what you need to do is work through a logical, systematic process which gets you as close as possible to the answer.